What Drives Us
Our Mission
Welcome to R P Cathouse! My name is Stella and this is the Tail of how my home became a Cathouse.I have always loved cats, far back as my memory will take me. remember dressing the kittens in doll clothes.They were all indoor and outdoor cats. I have learned a lot since then, having lost cats to some very bad things and people.
This is about how I came upon Maine Coons.  Back in 1996 I went with a friend to check on a cat who was due a litter.  We arrived one had already been born, so we made sure all went well with the rest of the delivery.  I was helping drying off the first kitten a pretty brown patch and white kitten.  I later learned that they were a pedigree cat called a Maine Coon.  Who knew of such a thing, I didn'tI fell in love with that brown patch tabby and white and her ½ sister.  So home they came with me when they were over 12 weeks old.  (Didn't know that either.) Anyway their names were Kitwilo's Jezabelle and G. Louise of R P Cathouse. I started showing them when they were old enough.  Then along came the next chapter of the Cathouse
I met a wonderful lady who is Terri Miller her cattery was Stacalone.  I met her at a cat show.  She called told me she had a brown and white male kitten, we drove up to see him and came home with him Chino and his brother Mason.  I also showed the boys in Premiership, I was learning the breed. One day as we were talking on the phone she told me about a silver patch kitten she wanted to co-own with me as a breeder so I drove up to see this kitten and home came Penny Land and surprise her brother Moses.  (Yes this is the 3rd time I came home with 2 kittens.  I took Penny Penny up to be bred and when that was done you guessed it I came home with Penny Lane and Eleanor Rigby.  My first litter was born in 2000.
What I do for my cats and kittens.  SPOIL them.  I want friendly, warm, and loving kittens. I want healthy cats and kittens.  I want them to conform to the standard set by CFA. My lines are old true Maine Coon lines  I will always try and answer any questions you have or try and find out the answers.   I love this breed and have stayed true to the standard.  My cats are my sanity and insanity.
They comfort and make me laugh when nothing else will. My hope and wish for my kitten's new family is that they find the same joy and happiness that I have with this wonderful breed.
Don't forget TWO Kittens are better than ONE!  Take it from a expert.  LOL
Love,
Stella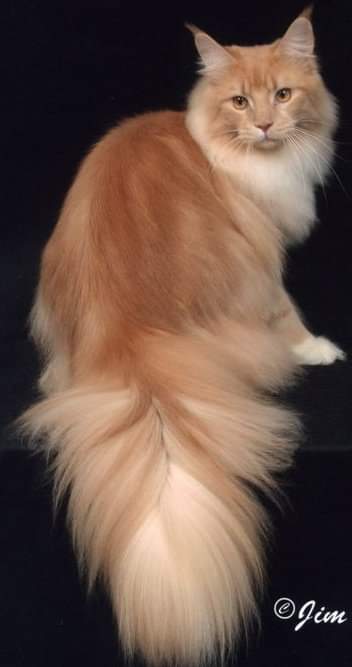 Coonwyck Papollo of R p cathouse
Why Maine Coon Cats?